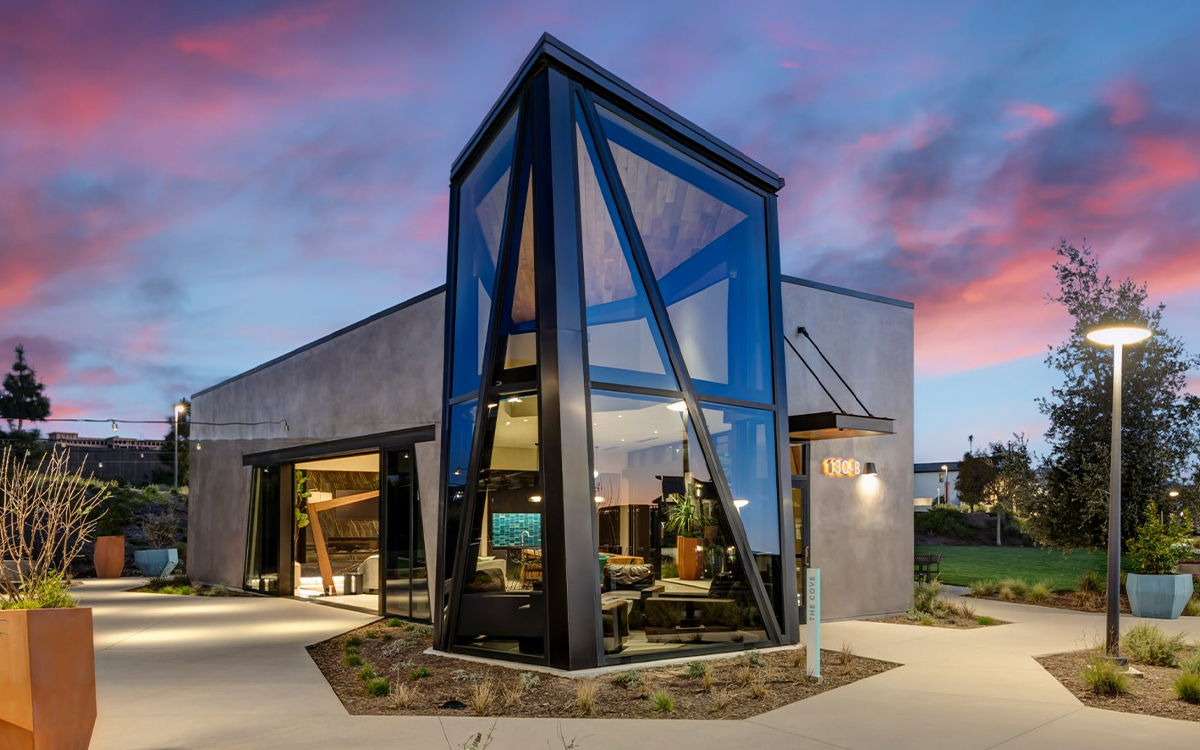 by Idea Hall
Among the plentiful amenities available to residents of Solis Park, a community within Irvine's Great Park Neighborhood, architecture firm AO is excited to reveal the completion of "The Cave," an impressive resort-style community pool and lounge, and "The Cove" community event center. Interior and architectural designers at AO, a leading full-service architecture firm with design expertise spanning 17 industries, drew inspiration from nature's elements, prehistoric art and the California landscape to create the one-of-a-kind poolside amenity and gathering space.
The Cave community pool and lounge features dramatic architecture inspired by the Lascaux Cave Museum, carved into the earth showcasing organic textures, angular shapes, and natural stone. Three open entry points offer unique views, combining the elements of earth, water, air, and fire evoking an ethereal and relaxing environment. A rock wall water feature trickles from ceiling to floor mimicking a cave setting with blue inlay stone drifting outward in a stream-like manner. A custom table and bar glows at the center of the space, recalling natural canyon rock. Organic, angular shapes continue outside with complementary forms including a zero-entry pool and perforated metal canopy featuring outdoor barbecues and seating. A raised promenade, meandering pathways, and angled staircases traverse the top of the Cave, along with cost-effective green roof conditions developed to support the restroom spaces below.
Continuing the geological narrative of the park, the main community event space known as The Cove, features a glass onyx tower and expansive entryways on both sides of the building leading out to the large event lawn. A large custom table provides a focal point for the room, along with thoughtfully designed seating areas, restrooms, kitchen, and bar. A semi-private conversation nook with dramatic angled ceiling overhead is well executed in the onyx atrium space. A bold architectural statement, The Cove event center anchors the park complemented by verdant, native Southern California landscape.
Situated next to the City of Irvine Great Park, the first metropolitan park of the 21st century, Solis Park is a trail-filled development located along the vibrant interstate I-5 and minutes away from the Irvine Spectrum. Solis Park and community center will be surrounded by one-, two- and three-bedroom units, and four-bedroom duplexes with open-concept living plans. The growing community also includes a new K-8 elementary school.
"We appreciate that our partners at FivePoint gave us the freedom to tap into our creativity and design something unique at the heart of the Solis Park community," said Richard Clarke, AIA, partner at AO. "Collaborating closely with the landscape design team at Brightview, our goal was to create a space that established a strong community identity and sense of enchantment, while encouraging social interaction and reflection. I think Solis Park achieves what we envisioned and more."